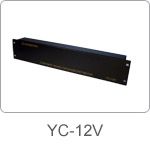 YC-12V is a 2 x 12 AV HDTV distribution amplifier which allows any A/V source with component video, stereo audio to distribute A/V to 8 different locations without any signals loss.

YC-12V is ideal for the home audio/video, transportation, theater and commercial AV applications which need multiple displays. When more than twelve outputs are required, multiple YC-12V can be linked to large number of TVs with equal picture quality, which helps you save the expense of additional A/V receiver. YC-12V also has the 19 inch rack mountable accessories kit for the 19 inch cabinet.


• Video : bandwidth 300MHz and support Component Video YPbPr (YCbCr) / RGBHV.
• Audio : Stereo Audio ( AR/AL).
• Scan rates: 50Hz or 60Hz available and support 480I、720P、1080I、1080P resolutions.
• Extra compact size.
• Daisy chain available.
• Metal rack mountable.



Description
YC-8V
YC-12V
VIDEO
Bandwidth
20MHz~300MHz
Gain
6dB
Input Port
2 x YUV(YPbPr/YCbCr) via RCA Connectors
Output Port
8 x YUV(YPbPr/YCbCr)
12 x YUV(YPbPr/YCbCr)
Input Level
1Vp-p
Output Level
1Vp-p (75Ω Load)
In/Out Impedance
75 Ω
AUDIO
Bandwidth
20Hz~60KHz
Gain
3dB
Input Port
2 x Stereo (R/L) via RCA Connectors
Output Port
8 x Stereo (R/L)
12 x Stereo (R/L)
Input Level
2Vp-p
Output Level
3Vp-p (4.7KΩ Load)
In/Out Impedance
10KΩ
Power Consumption
30W Maximum
Power Source
AC 9V @1000mA
Enclosure Type
Metal Rack Mountable
Dimension (LxDxH)mm
482(436) x 50 x 88