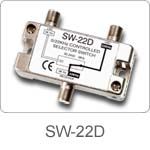 The SW - 22T, SW - 22D is RF selection switch which use in satellite receiving system. It can accept two signal from LNB of satellite dish then selecting the other one to pass via 22KHz of satellite receiver. The signal of satellite dish 1 is passed to satellite dish 2 is OFF, on normal conduction (22KHz OFF).

When the satellite receiver send out a 22KHz (squire wave) , the signal of satellite dish 2 is passed and the signal of satellite dish 1 is OFF.

** (The satellite receiver must have a 22KHz ON / OFF function.)


• Wide Band, High Isolation(SW - 22D).
• Built-in Short-Circuit Protection.
• Mini Size, Easy Install.
• May Combine With 14 / 18V Sat - SW.
• As Multiswitch To Use.
• Zinc Die-cast Hybrid Case.
• Gold Plated "F" Type Connector Pins.



Model
SW - 22T
SW - 22D
Note
Power ON / OFF, Only
Signal & power ON / OFF together
RF Switch Type
NONE
RF PIN DIODE
Operating Voltage
DC 12V to 20V
DC 12V to 20V
Current Consumption
25mA (max.)
35mA (max.)
DC Drop Voltage
0.2V(300mA) , 0.4V(500mA)
0.2V(300mA) , 0.4V(500mA)
Pass Current
600mA (max.)
600mA (max.)
Switching Request
22 KHz (squire wave) , 0.2V (min.) , duty cycle 50%
Switching Frequency Range
10KHz-45KHz (squire wave , 0.2V , duty cycle 50%)
Pass Band
30 - 2300MHz
30 - 2400MHz
Frequency Range (MHz)
30-700
700-2150
2150-2300
30-700
700-2150
2150-2400
Insertion Loss(dB max.)
4.5
6.0
7.0
2.2
3.5
5.2
Isolation (dB min.)
20
20-14
14
50
50-35
32
Net Weight
160g
160g
Dimensions
23 x 75 x 59 (mm)
23 x 75 x 59 (mm)