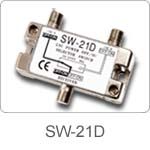 The SW - 21D is a RF signal selection switch which use in satellite receiving system. It can accept two signal from LNB of satellite dish then selecting the other one to pass via power OFF / ON of satellite receiver.

If the signal of set - 1 is passed to satellite receiver and the signal of set - 2 is OFF, when power OFF then power ON the signal of set - 2 is passed and the signal of set - 1 is OFF.

** (The time from power OFF to power ON not more than 5 second.)
** (Best choice If your satellite receiver does not have 14V / 18V or 0KHz / 22KHz function.)


• Wide Band, High Isolation.
• Built-in Short-Circuit Protection.
• Signal And DC Power, ON / OFF Together.
• May Combine With 22KHz or 14 / 18V Sat-SW as Multiswitch to Use.
• Mini Size, Easy Install.
• Zinc Die-cast Hybrid Case.
• Gold Plated "F" Type Connector Pins.



Model
SW - 21D
Note
Signal Power ON / OFF together
RF Switch Type
RF PIN DIODE
Operating Voltage
DC 12V to 20V
Current Consumption
35mA (max.)
DC Drop Voltage
0.2V(300mA) , 0.4V(500mA)
Pass Current
600mA (max.)
Switching Mode
POWER OFF / ON
Power OFF-ON Space Time
Must Less Than 5 Seconds
Pass Band
30 - 2400MHz
Frequency Range (MHz)
30-700
700-2150
2150-2400
Insertion Loss(dB max.)
2.2
3.5
5.2
Isolation (dB min.)
50
50-35
32
Net Weight
160g
Dimensions
23 x 75 x 59 (mm)