HOME-->Product-->SATELLITE SWITCHES-->DiSEqC Switches
| 2x1 Series | 4x1 Series |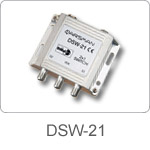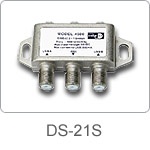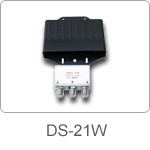 This DiSEqC 2 x 1 switch can help you receive digital and analog satellite from 2 universal LNBs. As usual, the polarization and bands are switched by 14V / 18V and 22 KHz. Then the Satellite A / Satellite B (SA/SB) DiSEqC command is used to select one signal. It also supports mini DiSEqC commands so you can use " Simple Tone Burst" to control it without a full DiSEqC receiver.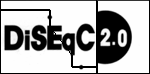 NOTE:
•This device supports up to DiSEqC v2.0 which means that any DiSEqC receiver of earlier DiSEqC versions will also operate correctly with this device.
•DiSEqC = Digital Satellite Equipment Control.
•'DiSEqC' is a trademark of EUTELSAT.
•EUTELSAT = European Telecommunications Satellite Organization.


DS-21W
•DiSEqC 2.0 supports bi-directional DiSEqC full control function
•Allow remote units to report their possible and actual configuration
•Backwards compatibility with Tone Burst
•Outdoor and indoor usage
•Sheet metal housing and weather-cap

DS-21S
•DiSEqC 2.0 supports bi-directional DiSEqC control function
•Allow remote units to report their possible and actual configuration
•Super compact housing design
•Zinc die cast housing

DSW-21
•Built-in switch for control mode
•DiSEqC 1.0 or tone burst or 22kHz tone
•Suitable for various existing satellite receivers



Specification
DS-21W
DS-21S
DSW-21
Input Frequency
(MHz)
950~2300MHz
950~2300MHz
47~2300MHz
Insertion Loss
(dB)
2
2
4
Return Loss
(dB)
8
8
8
Isolation
(dB)
20
20
25
Current Consumption
(mA)
10
20
40
Max. Current To LNB
(mA)
500
500
500
In/Out Connector
 
75Ω F-(f)
75Ω F-(f)
75Ω F-(f)
Dimensions
(mm)
97x101x23
65x41x14
86x93x25
With Weather-Cap
 
O
X
X
Selection Table
SAT
 
Option
 
LNB A → RX
A
-
-
-
LNB B → RX
B
-
-
-
LNB C → RX
A
-
-
-
LNB D → RX
B
-
-
-