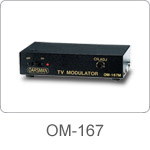 The OM-167 series are new designed VHF and UHF band modulators of LC type.
They have a built-in high rejection filter to provide a clear modulation signal , and also have a wide band combine-circuit to easily combine exit signals form TV antenna or others. Uses IC circuit design that will be trusted by you.
NOTE:
Other frequency range can be made in accordance with your request. The frequency range of CHF-HI and UHF band is 80MHz , maximum. VHF-LO band frequency range is 30 MHz, maximum. The highest frequency is 600MHz.


• Channel frequency adjustable
• Video bright and volume adjustable
• Built-in high rejection output filter
• Audio pre-emphasis circuit designed (pull-up audio frequency response)
• Simulation STEREO Input (R+L)
• T.P.G. function
• IC circuit designed



| | |
| --- | --- |
| O.S.C. mode | LC oscillation |
| Output Frequency | see the model |
| Output Level | >70 dBuV |
| Aural-to-Visual Carrier Level | -18dB (typ.) |
| Audio Input Level | 0.5 to 4 V p-p |
| Audio Input Impedance | 30K ohms |
| Video input Level | 0.7 to 2V p-p |
| Video Input Impedance | 1K ohms |
| Combiner loss | 30 to 900MHz |
| Power Requirement | 3.5dB to 6dB |
| Net Weight | 0.5 Kg |
| Dimensions | 35 x 140 x 95 (mm) |
MODEL
SYSTEM
FREQUENCY
RANGE(MHz)
OM-167L
NTSC
54-88
OM-167M
NTSC
120-174
OM-167H
NTSC
174-216
OM-167S
NTSC
216-300
OM-167U
NTSC
470-560