HOME-->Product-->TV AMPLIFIERS

-->

Diplex Drop Amplifier
| Mini Series | OM-2K Series |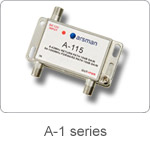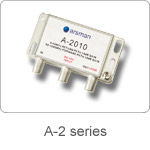 The A-2000 series drop amplifiers are perfectly designed for the current multimedia CATV system. The A-2000 series can forward gain either 10dB or 20dB with the superior flatness.
The reverse band of the A-2000 series fits the signals of the two-way communication for phone, fax, cable modems as well as the interactive services from customers.
The soldered-back case provides high RFI shielding, guaranteeing clean signals without interference and keeping out unwanted noise.


• 1 GHz bandwidth
• Bi-directional
• Optional reverse band
• Excellent flatness
• High RFI shielding
• Passive/Active selectable
• Mini Die-casting case



Model
Bandwidth
(MHz)
Gain
(dB)
Flatness
(dB)
Return
Loss
(dB min)
Noise
Figure
(dB max)
Output
Power
(dBmV)
Dist.
X-MOD
(dB)
CTB
(dB)
Power
Supply(V)
A-115
5-42
-0.8 +/- 1
0.5
18
7
25
-70
-65
12V
150mA
54-1000
14 +/- 1.2
1
A-211
5-42
-4 +/- 1
0.5
18
7
25
-70
-65
12V
150mA
54-1000
10 +/- 1.2
1
A-407
5-42
-7.4 +/- 1
0.5
18
7
18
-70
-65
12V
150mA
54-1000
7 +/- 1.2
1
A-2010
5-40
-1.5
1
16
6
+25
-70
-65
+12
54-1000
10 +/- 1.5
2
A-2020
5-40
-1.5
1
16
6
+25
-70
-65
+12
54-1000
20 +/- 2.0
2
A-2210
5-40
10 +/- 1.5
1
16
6
+25
-70
-65
+12
54-1000
-1.5
2
A-2211
5-40
10 +/- 1.5
1
16
6
+25
-70
-65
+12
54-1000
10 +/- 1.5
2
A-2212
5-42
10
1
16
6
+25
-70
-65
+12
54-1000
15
2
DAU-25
500-600
25 +/- 1.5
1
18
7
+25
-70
-65
12V