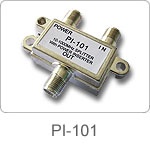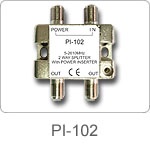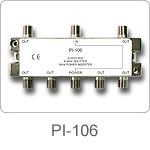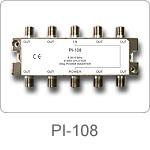 Oarsman PI-10x Series Multi out Power Inserter, build-in the Wide-Band Splitter, Use with PA/UA/CA Pre-Amplifier may solve the problem which many television signal intensity is insufficient.


• SMATV Full Band DC-2500MHz.
• High Shielding Zinc Dis-cast Housing.
• F Female Connectors.
• Can used to be a TV Splitter.
• Work with All OM-series Drop Amplifier.



Model
PI-101
PI-102
PI-104
PI-106
PI-108
Pass Band
DC-2500 MHz
TV OUT PORT
1
2
4
6
8
Pass Band Loss
2.0dB
6.0dB
12dB
15dB
18dB
In / Out Impedance
75ohm (F-Female)
Return Loss
10dB Min.
Power Insertion
DC +/- 24V ,1 Amp Max.
Dimensions (WxDxH mm)
15 x 55 x 48
52 x 59 x 23
75 x 59 x 23
119 x 59 x 23
119 x 59 x 23