HOME-->Product-->HDMI

Extender-->HDMI Over COAX
| HD-CL2 |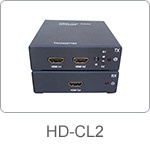 This HDMI over single Coax Extender uses single 75Ω Coax. Cable (such as RG-6U cable) to extend the HDTV display up to 120 meters (400 feet Max) for 1080p. It not only breaks the limitation of the HDMI cable transmission length,but also has more flexibility and convenience in cable construction.
It is equipped with HDMI (high definition multimedia interface) connector and is capable of supporting DVI (digital visual interface) equipment when used with an HDMI to DVI Adapter, providing greater flexibility and options when integrating several home theater components.
This product offers solutions for residential consumers: HDTV retail and show site, HDTV, STUB, DVD and Projector factories, noise, space and security concerns, data center control, information distribution, conference room presentation, school and corporate training environments.


• Support Cascade function in Transmitter and Receiver and easy to build a network system by installer.
• Switch easily between two HDMI sources by Remote control.
• One piece of 75Ω Coax. cable can substitute HDMI cable to achieve long distance transmission.
• Transmission distance can be up to 120 meters (400 feet Max) for 1080p using RG-6U Cable.
• Maintains highest HDMI single link video resolution 1080P@24Hz/60Hz.
• Support digital video formats in Deep Color Mode at up to 12bits/color.
• Support full HDMI audio and video.
• Easy to install and simple to use.



| | |
| --- | --- |
| Video amplifier bandwidth | 3.4 GHz Max. |
| Video output | 1080P@24/60Hz |
| Color depth | 12 bit Max. res |
| Input TMDS signal | 1.2 Volts P-P |
| Input DDC signal | 5 Volts P-P (TTL) |
| HDMI input/output connector | HDMI type A 19Pin |
| Link Connector | BNC Shielded |
| Power Adapter | DC5V/1A |
| Operating temperature range | -40℃ to +70℃ |
| Operating humidity range | 5 to 90% RH (no condensation) |
| Shipping weight | 0.93 Kgs |
| Dimensions( L x W x H) | 98.5 x 85 x 31mm |