HOME -->Product -->Digital Headend -->DVB-T HD / Network -->HC-T1N

| HC-T1N | HS-T1N |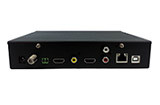 HC-T1N


• High Performance Wide Frequency Rage Support
• Low Cost HD Video Distribution
• Versatile video inputs and formats
• Easy to Configure
• Robust, Reliable and Long Distance
• Daisy-chain Connection (Bus-Topology)
• Real time protocol and Low latency



Parameter
Value
Input
Video: CVBS, HDMI 1.3 (with HDMI loop-thru)
Audio: Stereo line-in or HDMI PCM audio-in
(HDMI PCM audio-in supports up to stereo 96KHz, 24bits)

Compression
Video: H.264 or MPEG2
Audio: AAC or MPEG
Resolution
Input
CVBS
720x480x30I (NTSC, D1)
720x576x25I (PAL, D1)

HDMI
720x480x30I (NTSC, D1)
720x576x25I (PAL, D1)
1280x720x24P
1280x720x50I/1280x720x50P
1280x720x60I/1280x720x60P
1920x1080x24P
1920x1080x50I/1920x1080x50P
1920x1080x60I/1920x1080x60P

Output
H.264
1920x1080x24P/1920x1080x25P/1920x1080x30P
1600x1080x24P/1600x1080x25P/1600x1080x30P
1440x1080x24P/1440x1080x25P/1440x1080x30P
1280x1080x24P/1280x1080x25P/1280x1080x30P
1280x720x24P/1280x720x25P/1280x720x30P
704x576x25P (PAL, D1)
704x480x30P (NTSC, D1)
352x576x25P (PAL, Half D1)
352x480x30P (NTSC, Half D1)
*Note
MPEG2
1600x1080x24P/1600x1080x25P
1440x1080x24P/1440x1080x25P/1440x1080x30P
1280x1080x24P/1280x1080x25P/1280x1080x30P
1280x720x24P/1280x720x25P/1280x720x30P
704x576x25P (PAL, D1)
704x480x30P (NTSC, D1)
352x576x25P (PAL, Half D1)
352x480x30P (NTSC, Half D1)
*Note
Power
DC 9~24V
Power Consumption 0.7A@12V

Operating Temperature
-10°C ~ 60°C
*Note: output formats supported depend on the video input formats. The frame rate should be consistent and the encoded video frame size should be less or equal to the original input.
Parameter
Value
TV Standard
DVB-T EN-300 744

RF connector
75-Ω F-type connecter and two-wire terminal for twisted pairs
(differential RF output)
Bandwidth
2/3/4/5/6/7/8 MHz
FFT
2K, 4k, 8K
Code rate
1/2, 2/3, 3/4, 5/6, 7/8
Guard interval
1/4, 1/8, 1/16 or 1/32
Frequency range
100-2500 MHz, tuning step 1KHz

Segment & Layer
n/a
Time Interleaver
n/a
RF Output Level
-3~-5 dBm (103-105 dBuV) @100-470 MHz
-5~-8 dBm (100-103 dBuV) @470-950 MHz
-14 dBm (94 dBuV) @950-1900MHz
-18 dBm (90 dBuV) @1900-2600MHz

Digital Gain/Attenuator for Fine Tuning
Range: +0dB~-25dB , Step size 1dB
MER

Typically , @-5 dB attenuation by ADRF6755 ,
>35dB@V-band, >35dB@470-950 MHz,
>33dB@950-1900MHz, >30dB@1900-2600MHz


Spectrum Shoulder (Adjacent channel)
45dB
Phase noise
<-92dBc @ 10kHz
Carrier Suppression
>42dB
***: There could be MER loss in high gain/attenuation level.
Network Features
Descriptions
Remote Management
Web Server for remote access
1. Transmission Configurations,
2. Status Monitor

Video Streaming Output
RTSP streaming input DVBT/ISDBT TV RF output,
Video: H.264 or MPEG2, Audio: AAC or MPEG, Support RTSP TS or PES Payload


Application Scenario-Wireless

Application Scenario-Wired

System Deployment Example – Bus Topology

Application – Live Video Broadcast

Application – Digital Signage

Application – Entertainment HD Video Distribution