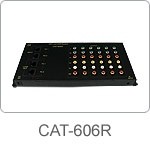 The CAT-606R is CAT5 Receiver via simple Category 5 (CAT5) UTP cable to receive Component Video (YPbPr) and Digital Audio or Composite Video and Stereo Audio(AL/AR) for long distance from a TX CAT-5 Transmitter signals as following:
•Transmitter of YC-42C, CAT-604T, CAT-101T.
•Splitter of CD-104, CD-108
CAT-606R can distribute SD/HD signals to 6 Display Devices. If the CD-104/CD-108 is between YC-42C and CAT-606R. It could be string more CAT-606R for more devices.


1.Support Component Video (YPbPr) and Digital Audio or Composite Video and Stereo Audio
2.Digital Audio(SPDIF) port support Composite Video signals
3.Loop output for use of additional CAT5 receivers
4.Long distance extend via CAT5
•1000 feet for HDTV resolution 480p
•600 feet for HDTV resolution 720p
•450 feet for HDTV resolution 1080i
•1000 feet for Composite Video(YPbPr)
•1000 feet for Digital Audio (SPDIF) and Stereo Audio
4.Modular component video I/O configuration available in a variety of sizes
5.Route and distribute YUV over CAT5 twisted-pair instead of costly individual cables
6.Reduce overall installed cost about 40%
7.Enclosure type: wall mount metal case



Specifications
CAT-606R
Type of Signals
Component Video(YPbPr)+Digital(or Composite Video)+Stereo Audio
Input
1 set x RJ-45 Jack
Output
6 set x Color-coded RCA female connectors
Loop Output Terminal
1 set x RJ-45 Jack
Video Bandwidth
160MHz large signal bandwidth
Slew Rate
1600V/μs @G=1, Vo=2Vp-p
CMRR
65dB@10MHz
Video Out Impedance
75Ohms
Video Maximum In Levels
1.4Vp-p
Audio Out Impedance
10K Ohms
Audio Frequency Response
20Hz to 20KHz, +/-1dB
Audio Maximum In Levels
2Vp-p
Distance by CAT6 Cable
1080i (1920x1080) 450feet
720p (1080x720) 600feet
480p (720x480) 1000feet
Composite Video 1000feet
Dimensions
227(W) x 115(D) x 28(H)mm
Net Weight
0.65kg
Power Requirement
DC12V@1A